Nasser Hanna, M.D., boils down the philosophy of lung cancer research at Indiana University Melvin and Bren Simon Comprehensive Cancer Center to a simple question.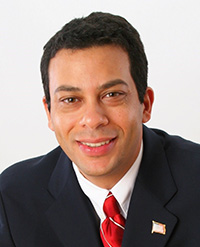 "We look at the problem of lung cancer and determine what IU's unique contributions can be," Hanna said. "We ask, 'What research will NOT be done if IU does not do it?'"
Hanna, who serves as the Tom and Julie Wood Foundation Professor of Lung Cancer Clinical Research at IU School of Medicine and a physician-scientist at the cancer center, leads a team of 10 clinical lung cancer researchers. Their collective goal is to conduct research that will help inform clinical decisions, such as how much chemotherapy to give a patient or whether adding immunotherapy will improve outcomes.
Currently, IU's team is organizing their research efforts around three overarching themes: personalizing therapy for individual patients, maximizing the impact of immunotherapy in early-stage lung cancer, and overcoming resistance to platinum-based therapies. IU's findings translate to better care for patients in Indiana and around the world. And they answer other questions as well.