The IU Simon Comprehensive Cancer Center offers summer programs for high school and undergraduate students to explore career paths in cancer research. Students work directly with a mentor physician or researcher, while participating in a wide range of basic science, translational, and clinical research activities. 
We asked Jalan Drummond a few questions about his summer experience.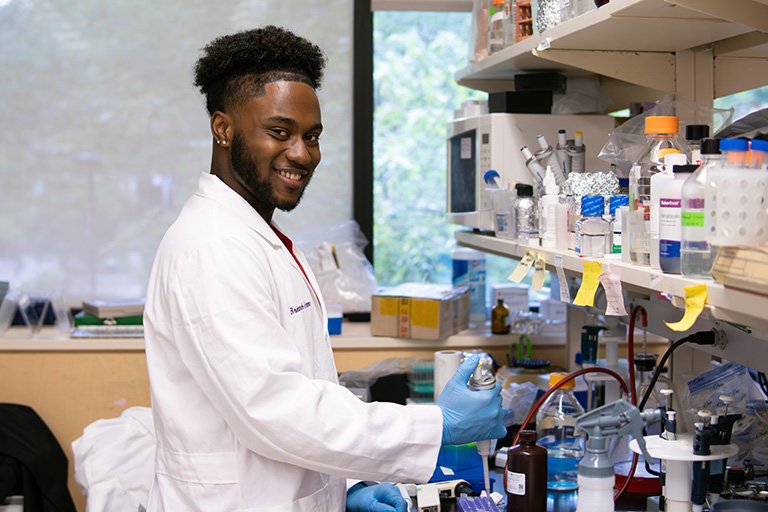 Name: Jalan Drummond
School: Jackson State University, rising senior
Hometown: Lafayette, Ala.
Summer program: Summer Programs for Academic Research in Cancer (SPARC), Jackson State University cohort
Summer mentors: Hyeong-Geug Kim, Ph.D., and Charlie Dong, Ph.D.
Career aspirations: anesthesiologist/ dermatologist
What can you tell us about the research you are doing this summer?
This summer, I am working with Dr. Dong and Dr. Kim to understand the role of PNPLA3 in hepatocellular carcinoma (HCC), a type of liver cancer. Currently, I am researching to learn more about the anatomy and function of the liver. We are also using liver samples to understand the expression and significance of the Arg1 gene in HCC.
What is one thing you have learned this summer?
The most significant concept I have learned this summer has been two staining techniques that are commonly used to identify cancer cells — H&E staining and Sirius red staining. The most helpful tip from Dr. Kim so far has been to "always trust your eye, don't worry about what other people say" when studying cell samples.
Has anything surprised you about the experience?
What surprised me the most about my summer here at the cancer center was how open my mentors and other faculty have been with me. For the introductory dinner, Dr. Kim was so excited for the upcoming summer and everyone in my lab always has a smile on their face, making sure that all the interns feel welcomed.
What has the summer experience been like for you? Anything particularly challenging?
Overall, this has been a very good summer because I have had the opportunity to get hands-on research experience to understand more areas of the science field. The most challenging thing this summer has been reading the research papers that are given to me and not understanding the scientific terminology used in them.