The IU Simon Comprehensive Cancer Center offers summer programs for high school and undergraduate students to explore career paths in cancer research. Students work directly with a mentor physician or researcher, while participating in a wide range of basic science, translational, and clinical research activities. 

We asked Hunter Quigley a few questions about his summer experience.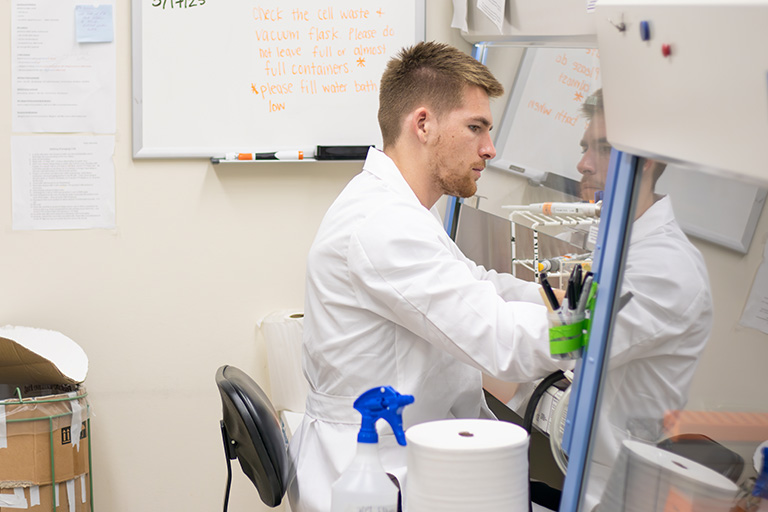 Name: Hunter Quigley
School: IUPUI, rising senior
Hometown: Libertyville, Ill.
Summer program: Summer Programs for Academic Research in Cancer (SPARC)
Summer mentor: Shannon Hawkins, M.D., Ph.D.
Career aspirations: Attend medical school and become a physician; leaning toward surgery but keeping mind open for every specialty
What can you tell us about the research you are doing this summer?
My research is focused on ovarian and endometrial cancer. The project I am working on for this summer involves 3D co-culture of various stromal and cancerous cell lines. From these co-cultured cell lines, I will be analyzing cytokine production along with the testing of an immune cocktail to determine the effects it has on cytokine production as well.
Why were you interested in participating in this program?
I have been involved in research for some time now and find it incredibly interesting and engaging. I wanted to continue doing more cancer research in the summer and found the SPARC program, which enabled me to become more involved in cancer research and learn more about the research side of medicine.
What is one thing you have learned this summer?
I have certainly learned more about cancer and cancer research. I have also learned how to read research publications more effectively; this can be a daunting experience reading about various topics that can be quite foreign. However, I have learned how to navigate publications more in order to get the most out of what I read.
Has anything surprised you about the experience?
What has been the most surprising is how fast the experience has been. The program has been a great experience and it has not felt like we are nearly finished.
What has the summer experience been like for you? Anything particularly challenging?
The main challenge I have experienced is something that I believe is common in research—particularly with research involving cell culture—which is the reliance on cells to outgrow in a timely manner while also remaining healthy and viable for experiments. Many of the delays on my summer project have been due to slow cell culture growth and trial and error with cell lines that are not faring well after unfreezing.
Do you have advice for future summer program participants?
Try to enjoy the experience as a whole and don't just go through the motions. Not many undergraduate students get the opportunity to engage in medical research at a well-established medical school like IU or a cancer center like the IU Simon Comprehensive Cancer Center. This research experience can be so much more if you choose to get more out of it. Try to not only gain research experience but meet people whether they are other students or faculty. There are a lot of opportunities this program has to offer.