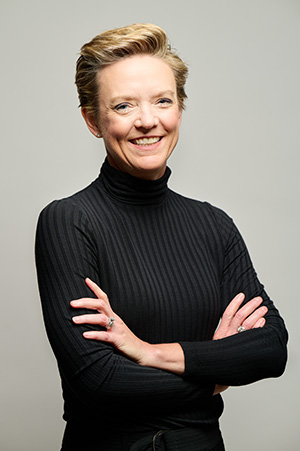 Sheri Robb, PhD
By Candace Gwaltney
Nov. 30, 2022 
A music therapist strums her guitar and guides a distressed preschool-aged cancer patient in singing a familiar children's song. Slowly the child starts to open up, and the giggles that once were constant are shared again among the child, parent and therapist. The child isn't just engaging in a fun respite from treatment but is experiencing much-needed independence, choice and support. 
"There's nothing inherently therapeutic or magical about singing 'Five Little Speckled Frogs'—it's the way that the therapist is using the activities in that particular moment," said IU Simon Comprehensive Cancer Center researcher Sheri Robb, Ph.D. 
A nationally renowned music therapy researcher, Robb is exploring how music and play interventions can reduce stress, improve survivorship and boost the immune system in children ages 3-8 during cancer treatments. Robb is a professor at the IU School of Nursing and the Walther Professor of Supportive Oncology at IU School of Medicine. 
Awarded a $2 million grant from the National Institutes of Health, Robb is examining the effects of active music and play interventions on multiple biomarkers to provide a more holistic understanding of how music therapy reduces cancer-related stress. 
"The work that we're doing looks at the use of music play, which is an intervention that's delivered by a music therapist," Robb said. "It uses music and play as a way to address the distress that young children and their parents experience as they go through cancer treatment." 
Research is being conducted with 228 child and parent pairs in Indianapolis, Chicago and Kansas City, Mo. The children will be undergoing outpatient treatment for acute lymphoblastic leukemia and lymphoma.
With this grant, Robb and colleagues are measuring cortisol (a stress hormone) from saliva samples in both the child and parent as a biomarker for stress. The study will also use patient blood tests to explore if music therapy can lower biological markers of stress enough to also improve the child's immune function. Because child and parent distress is interrelated, researchers are aiming to reduce stress levels in both the patient and caregivers.