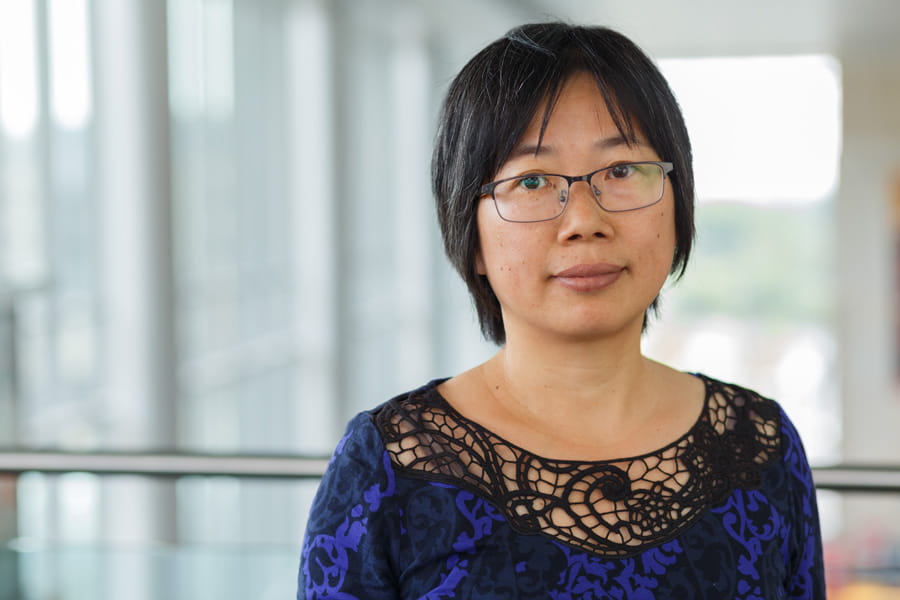 Xinna Zhang, PhD
July 24, 2020
Xinna Zhang, Ph.D., has received a $1.2 million grant for prostate cancer research. The project, "Identification of Therapeutic Vulnerability in Prostate Cancer Harboring Chromosome 17p Loss," is funded by the Department of Defense office of the Congressionally Directed Medical Research Programs/Prostate Cancer Research Program. "Our study aims to develop treatments that improve outcomes for men with lethal prostate cancer," Zhang said.
A researcher at the IU Simon Comprehensive Cancer Center, Zhang is assistant professor in the Department of Medical and Molecular Genetics at IU School of Medicine. She answered questions about this research project.
Q. What is the primary purpose of this research?
A. Prostate cancer is among the most common male malignancies and one leading cause of cancer mortality in men. Since the discovery of androgen dependence in prostate cancer, androgen deprivation is the mainstay of therapy for advanced prostate cancer treatment. Androgen is a type of male hormone. Despite initial responses, almost all patients progress to castration-resistant prostate cancer (CRPC). There are only a few medications registered for the treatment of CRPC at this time, and they are often associated with drug resistance and cancer relapse/recurrence. The project aims to develop a novel strategy precisely targeting the genomic vulnerabilities in CRPC.
Q. Please explain the key aims and past findings that guide this grant?
A. Our previous study found that partial loss of human chromosome 17p (Chr17p) is one of the most frequent genomic events that contribute to prostate tumor genesis or growth. TP53 is a well-known tumor suppressor gene in this region, but no effective p53-based therapy has been successfully translated into clinical cancer treatment. In collaboration with Dr. Xiongbin Lu at Indiana University, we identified a novel drug target gene, POLR2A, which is included in the deletion region of Chr17p of 63 percent of metastatic CRPC. Inhibiting POLR2A with small compound drug α-amanitin selectively inhibits proliferation, survival and tumorigenic potential of CRPC cells with partial loss of Chr17p. 
Previous clinical applications of α-amanitin have been limited due to its liver toxicity. We found that α-amanitin-based antibody drug conjugates (ADCs) are highly effective therapeutic agents with significantly reduced toxicity. PSMA (prostate-specific membrane antigen) is a membrane-bound protein and is frequently overexpressed in CRPC cells. PSMA antibody is a fully humanized antibody.
We will develop and optimize α-amanitin-based ADC using this antibody and demonstrate that α-amanitin-conjugated ADC is a specific drug for the treatment of CRPC with partial loss of Chr17p. We will then evaluate its potential therapeutic efficacy in preclinical CRPC models.
Q. What is the significance of this research?
A. Given the limited therapeutic options for castration-resistant prostate cancer, our findings identified potential drug targets from a common Chr17p deletion event in human CRPC. This project will demonstrate that partial loss of Chr17p in human prostate cancer confers therapeutic vulnerabilities, which can be utilized to develop novel targeted cancer therapy for this type of prostate cancer.
Q. What are the possible implications of this research?
A. Ultimately, the goal of this project is to demonstrate the antibody-drug conjugates as a novel targeted therapy for p53-defective CRPC in preclinical mouse models. Our long-term goal is to take advantage of the clinical resources at IU Simon Comprehensive Cancer Center to initiate clinical trials.