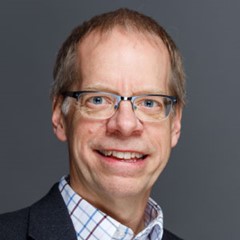 By Candace Gwaltney
Tuesday, June 30, 2020
When a cancer patient's medical history was presented at a precision genomics clinic at Indiana University, her story piqued the interest of Todd Skaar, Ph.D. The woman had experienced extreme toxicity to a chemotherapy regimen widely used to treat breast and colon cancers. Her reaction to the regimen, however, resulted in a three-week hospitalization.
That single case led Skaar and colleagues to identify a genetic marker that causes severe toxicity when patients are given standard doses of a common drug. The case report is published this month in JCO Precision Oncology.
"The overall goal of this study is to understand how to better tailor the chemotherapy regimen to individual patients," said Skaar, the study's senior author and a researcher and co-leader of the Cancer Prevention and Control research program at the Indiana University Melvin and Bren Simon Comprehensive Cancer Center, and professor of medicine at IU School of Medicine. "Some chemotherapies could be lethal in some people with a standard dose that most people can handle. We're trying to identify and predict who those people are so we can either reduce the dose or give them a different drug."
Using a computerized genomic data tool, Reynold Ly, Ph.D., a research fellow in Skaar's lab, scanned the patient's entire genome to find if there was a genetic component to explain the patient's toxicity reaction to the chemotherapy. Among those 6.4 billion base pairs in the genome, Ly found that a variant in a gene called DPYD that likely caused the patient's adverse reaction. The DPYD gene is needed to metabolize the chemotherapy drug called capecitabine. This variant causes the gene to be non-functional, keeping the body from processing the drug and allowing it to build up to toxic levels in the body.
IU researchers collaborated with the Diasio laboratory at Mayo Clinic that specializes in DPYD research. Mayo Clinic researchers were able to test the variant in a cell-based model to confirm what Skaar and Ly suspected—that one rare difference in the patient's genome caused her extreme reaction and subsequent hospitalization.
While this specific genetic variant and chemotherapy reaction is rare, researchers have unlocked another piece of the human genome to bring them one step closer to providing the best treatment to individual patients.
"This specific variant is very rare, which is why it hasn't been tested before," Skaar said. "This case study gives us a little more confidence that using whole-genome sequencing can allow us to identify some of these rare variants ahead of time and avoid some of those toxicities." Skaar also is a researcher at the Vera Bradley Foundation Center for Breast Cancer Research at IU School of Medicine.
The patient's whole-genome sequencing was performed through the IU Health Precision Genomics Clinic, co-directed by cancer center researchers Milan Radovich, Ph.D., and Bryan Schneider, M.D., the Vera Bradley Chair in Oncology. 
Findings from this study will be implemented in genomic guidelines utilized by tumor boards across the United States to inform clinical care for patients with this specific genetic variant in DPYD.
This research was supported by the National Institutes of Health (R35GM131812 and P30CA15083), Vera Bradley Foundation, and the Indiana University Grand Challenge Precision Health Initiative.
Nearly 40 Indiana University Melvin and Bren Simon Comprehensive Cancer Center research physicians and scientists and 5,000 square feet of lab space make up the Vera Bradley Foundation Center for Breast Cancer Research at IU School of Medicine. Named in 2018, the center celebrates The Vera Bradley Foundation for Breast Cancer's transformational support of research at Indiana University since 1999.