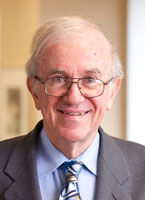 By Mary Hardin
Monday, September 18, 2017
Bigger isn't always better.
That was the thinking of Lawrence Einhorn, M.D., when he envisioned a slimmed down version of the world's largest annual oncology meeting. His thought was to take days of presentations, hundreds of posters, and countless abstracts and exhibits, and boil them down to a one-day review that would feature the highlights of the annual American Society of Clinical Oncology Annual Meeting. Thus was born ASCO Review at IU.
This year marked the 24th annual ASCO Review at the IU Simon Cancer Center. On July 21, 240 professionals dedicated to all aspects of the treatment of cancer gathered at Hine Hall Auditorium on the IUPUI campus to hear the most significant findings from the ASCO Annual Meeting this past June in Chicago. That meeting brings together more than 35,000 oncology professionals from 100 countries who come to hear the latest practice-changing research and network with internationally recognized experts in a broad range of specialties.
In 1994, Einhorn started what has become an annual tradition at IU and its success prompted similar programs to be hosted elsewhere in the United States and around the globe. His idea to summarize the most relevant ideas from the huge international meeting and present them to other oncologists in the area started with about 250 medical professionals in attendance. Junior IU oncology faculty and fellows were invited.
Never one to impede the flow of knowledge, Einhorn, who is a Distinguished Professor of Medicine at IU, thought fellows from other major cancer centers might benefit from the one-day review. He arranged for pharmaceutical companies to provide grants to pay all expenses for fellows, a practice that lasted for about 10 years until rule changes in the pharmaceutical industry prohibited that type of support.
The scope of the ASCO Annual Meeting is mind boggling even for veteran attendees. For new oncologists, the experience can be daunting.
The 2017 ASCO Annual Meeting was attended by more than 39,000 physicians, nurses, researchers, pharmacists, biostatisticians, epidemiologists, students and other professionals focused on oncology. Of those, 17,168 were from the United States with the remainder representing Japan, Germany, France, United Kingdom, China, Canada, Brazil, Switzerland and Italy. Add to that more than 500 exhibitors and it is easy to see why the ASCO Annual Meeting is the largest oncology gathering on the planet. 
"Trying to synthesize what you learned at this meeting can be overwhelmingly complicated for junior faculty and fellows," said Einhorn, who served as ASCO president from 2000 to 2001. His idea to pare down the five-day meeting to a digestible one-day synopsis was well accepted from the start. Today, it's an IU Simon Cancer Center tradition that brings fellows, oncologists, hematologists, pharmacologists, nurses and other specialists together from across the state.
Word of the success of the review spread and other university cancer centers began holding similar synopses. In addition to those reviews, the Best of ASCO meeting was endorsed in 2002 by the ASCO board of directors. The first Best of ASCO meeting was held in 2003 in Boston; now the board hosts three regional Best of ASCO meetings domestically each year with attendance ranging between 400 and 600 people, according to ASCO.
ASCO also offers a licensed Best of ASCO program, which allows organizations in more than 25 countries to hold their own regional meetings using ASCO-approved content. This year, 28 regional meetings took place in 26 countries across the globe.
Nabil Adra, M.D., assistant professor of clinical medicine, said attending the ASCO Review at IU is "a very high priority" for him, so much so that he's attended five since he was an internal medicine resident at IU. This summer, he completed his three-year fellowship in hematology/oncology and joined the IU faculty.
"It is very difficult to keep up with all the advances," Adra said. "Even if you attend the ASCO Meeting, it is difficult to process all the data and discussions by thought leaders and other leaders in cancer treatment."
Adra, whose focus in the clinic and in research is prostate, kidney, bladder and testicular cancers, said he welcomes the opportunity to learn from senior faculty at IU.
"A very important part of the review is the interpretation. First the presenter will present the data and then the interpretation of the data," he said. "Lots of times, I think that's the most valuable part. It gives you an idea of how to evaluate research and clinical trials; how to determine the value of the clinical trial, and if the population included is large enough to generalize to our patients we are seeing in clinic."
Nasser Hanna, M.D., professor of medicine, has been attending the ASCO Annual Meeting for more than 20 years. "The meeting, which has grown exponentially over the years, has become this magnificent, yet overwhelming, experience," he said.
Hanna, a specialist in thoracic oncology and germ cell tumors, is one of the faculty who presents at the ASCO Review at IU. This year, he and Shadia Jalal, M.D., assistant professor of clinical medicine, tackled a two-part session on thoracic tumors. He also has presented at Best of ASCO multiple times.
Hanna's participation in the review course goes back to 1998 when he was an oncology fellow at IU. "I remember those days when fellows from across the country packed the auditorium, balcony and overflow room at the campus conference center," he said.
The event sees fewer fellows these days but oncologists from across the state attend to gain the insights and perspective of the IU Simon Cancer Center physicians and to network, he said.
We discuss supportive care, new standards of care, clinical studies that come up short, as well as practice altering research, with our statewide colleagues," Hanna said. 
The following IU faculty provided a review and interpretation of the 2017 ASCO Meeting:
Jarushka Naidoo, MBBCh, assistant professor of oncology at Johns Hopkins University, led the noon discussion panel "Managing Toxicities of Immunotherapy."
Einhorn still plays a major role in the review, and presents the introduction and conclusion, and moderates the meeting
Some say the best way to learn is to teach and the annual review is no exception. The ASCO Review energizes IU faculty to fine-tune their knowledge of the latest and most promising oncology innovations so they can present to junior faculty and fellows.
"We have fun doing it and it promotes camaraderie within our faculty," said Einhorn, whose foresight and dedication to knowledge fostered a learning opportunity for oncologists worldwide.