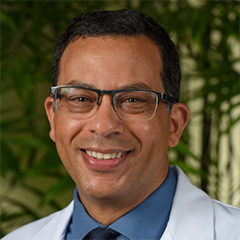 Hanna
Wednesday, July 12, 2017
The FDA has granted accelerated approval for brigatinib (Alunbrig) for treatment of a specific type of non-small cell lung cancer. How does this improve your arsenal of weapons against lung cancer?
Dr. Hanna: Brigatinib gives oncologists another drug to treat patients with ALK positive non-small cell lung cancer. We now have four drugs available for treatment of this form of lung cancer —crizotinib, ceritinib, alectinib and now brigatinib. If the cancer develops a resistance to one of the drugs, brigatinib gives us yet another option for treatment. Resistance to one does not necessarily mean resistance to others in the same class of drugs.
Brigatinib targets ALK-positive non-small cell lung cancer. What does that mean?
Dr. Hanna: ALK is a gene that can cause cells to reproduce in an unregulated manner. Unchecked cell proliferation is another way to describe cancer.
Is this a form of lung cancer that, in particular, needed additional options for treatment? 
Dr. Hanna: Yes. We know that ALK inhibitors are effective for our patients, but all patients develop resistance. Each ALK inhibitor may have a unique sensitivity to certain tumors depending upon the mechanisms of resistance developed in the tumor against the previous drug.
Non-small cell lung cancer, or NSCLC, is the most common form of lung cancer. What percent of patients will benefit from this new treatment?
Dr. Hanna: Approximately 3 percent to 5 percent of patients with lung cancer may be eligible for treatment with the new drug.
Have lung cancer treatments progressed in terms of cures, remissions and quality of life issues in the past 10 years? 
Dr. Hanna: Absolutely. Researchers have identified seven potentially targetable gene mutations and three new immunotherapy drugs. The use of maintenance therapy also has advanced. We have made substantial progress over the past 10 years when only 5 percent of patients with stage 4 lung cancer were alive at 5 years after diagnosis. Now that number is about 20 percent.
Is the IU Simon Cancer Center involved in any clinical studies for lung cancer that seem promising? 
Dr. Hanna: The IU Simon Cancer Center is on the leading edge of research in the field of lung cancer. We are testing immunotherapy strategies in all stages of lung cancer, which provides our patients with positive options for potentially advanced treatments.