The IU Simon Comprehensive Cancer Center offers summer programs for high school and undergraduate students to explore career paths in cancer research. Students work directly with a mentor physician or researcher, while participating in a wide range of basic science, translational, and clinical research activities. 

We asked Siji Ketiku a few questions about her summer experience.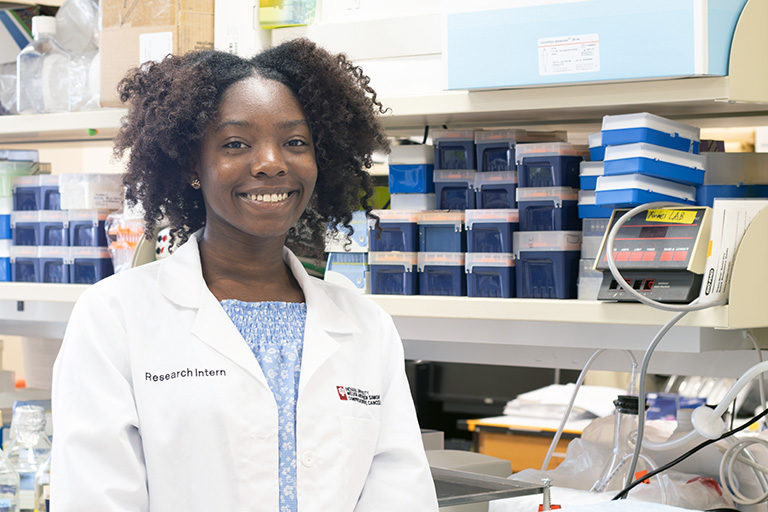 What can you tell us about the research you are doing this summer?
This summer, I am researching the development of a tumor-selective "SMART" agent that is lethal to pancreatic cancer cells but causes no harm to normal, healthy cells.
What is one thing you have learned this summer?
Over this summer, I have learned the importance of collaboration. I often work as part of a team, collaborating with other interns, my mentor, and laboratory technicians. This collaborative environment allows for the exchange of ideas, feedback, and I can learn from others' expertise.
What has the summer experience been like for you? Anything particularly challenging?
This summer experience has been a great one. I was able to participate in the DICR internship last year, and I really enjoy having one summer of experience already. With the previous summer experience, I know more about my project, what to expect, and how to work independently in conducting experiments. Although I have some experience, I'm still able to learn new techniques and advance the knowledge I had from the year before.
Do you have advice for future summer program participants?
One piece of advice I have for future summer program participants is to not be afraid to ask questions! Conducting research comes with numerous calculations, reading lots of new research articles, and learning laboratory techniques you might not have done before. Research as an undergraduate can be a new but enriching experience so be sure to take initiative and ask questions on anything confusing or interesting to you.