Deutsch Scholarship awardee says donors, patients as vital to research teams as physician-scientists
Dr. Dana Mitchell, an investigator in one of the Indiana University Melvin and Bren Simon Comprehensive Cancer Center's research labs, is the 2022 recipient of the Deutsch Scholarship. However, talking about her achievement and future was far less important to her than sharing what donors like Walter A. and Laura W. Deutsch make possible for researchers throughout the cancer center.
A delayed journey to the 'Clapp lab'
Mitchell's one-of-a-kind story deserves some attention, though. She said she was a fourth-year medical student when "lots of weird neurological symptoms, like headaches that felt like someone was holding a flat iron against my brain," began. "I had received the cancer center's Wright Scholarship in the spring of 2019, but by June, I couldn't even subtract four from my own age. That started a 2 1/2-year leave of absence trying to get diagnosed and treated." 
Researching her symptoms even while she could barely communicate, Mitchell discovered that she had autoimmune encephalitis (AE), inflammation of the brain from the body's immune system attacking healthy brain cells.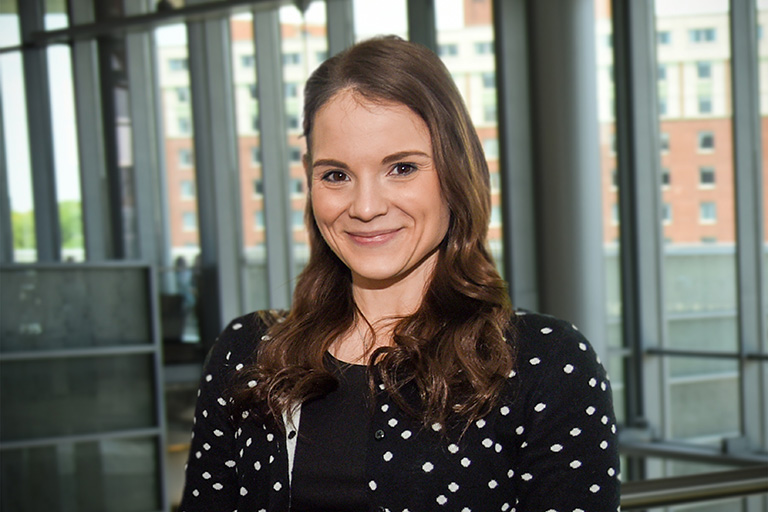 Mitchell is more than a year post-therapy now, a milestone she celebrated with 'the Clapp lab,' as it's affectionately known, run by Dr. Wade Clapp. She's still on maintenance therapy but remains free of symptoms; she is an active part of the lab and shares her AE research wherever she can. Yet, when we wanted to write about her accomplishments, Mitchell had another idea. 
"I'd rather focus on our lab's work and our unique setup: three principal investigators linking bench-to-bedside research to promote the rapid translation of preclinical discovery and drug development for the benefit of our patients," Mitchell said. "The Clapp lab has had a pretty successful year doing some really exciting things. And Dr. Clapp was personal friends with [scholarship honoree] Andy Deutsch, so I know he's trying to do the things Andy would have wanted to do."
Approaching custom cancer treatment
Mitchell's journey to the Clapp lab started with a connection to Dr. Mahua Dey, formerly of the cancer center. In Dey's lab, Mitchell researched the microenvironment of primary brain tumors, which set her up for her next lab experience. 
This one, run by the late Dr. Grzegorz Nalepa, introduced Mitchell to rare diseases, the area of medicine she is now committed to practicing. The two were working together on rare-disease case studies when Nalepa died in 2018. Fortunately, Mitchell was able to continue the study with Dr. Steven Rhodes. He, Clapp and Dr. Steven Angus are the three principal investigators linking cancer research and preclinical work directly to patient clinics. 
"Our goal is to rapidly bring new pharmacologic therapies to patients with neurofibromatosis type 1 (NF1) and type 2 (NF2). Between the three labs, we have a great working collaborative that allows us to fully cover the breadth of the disease and understand the broad disease pathology." 
The relationship results in customized cancer treatment for individuals today and, hopefully, all cancer patients in the future. 
"Research and clinical work eloquently inform each other. We do some amazing things, like take samples directly from a patient and create mouse models of that patient specifically, then develop cell lines that allow us to test drugs and drug combos both in a dish and in the mouse. This lets us perform a range of analyses to determine what would be an optimal target for the individual patient," Mitchell said.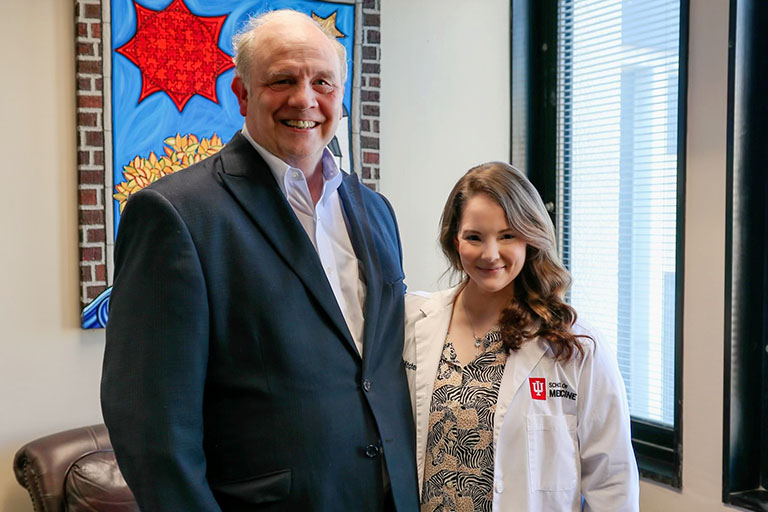 This is especially important for rare diseases, where less research and fewer treatment options exist. The model allows researchers to tailor care in the realm of precision medicine, Mitchell said, while also producing enough data to recognize patterns over time that can hone strategies with a broader reach.
"With NF1, up to 10 percent of patients will develop a malignant tumor that has no FDA-approved therapies currently," Mitchell said. "NF2 patients develop tumors that grow off cranial nerve eight, which can result in deafness, loss of balance and other quality-of-life issues. They can compress the brain stem and lead to death. So it's a matter of quality and longevity of life with both these diseases." 
She said the cancer center's research teams are moving information from the lab to the clinic faster than ever—thanks largely to funding. 
"We're always looking for ways to impact patients as quickly as possible, and we can't do any of it without donor support. The ability to do all these analyses in real time requires staffing, equipment, all the associated costs, and it's so important to each patient and to science in general. Then, making these treatments and drugs available to patients isn't cheap. We need to support patients not only in getting 
a comprehensive analysis of their specific disease process, but in gaining access to treatments and medicines, too," Mitchell said.
Researchers + donors = healthier patients
Clapp lab researchers and physician-scientists are acclaimed around the world, and the level of excellence and track record is reflected in national grants and clinical trial approval. Clapp and his colleagues reported the first effective treatment for NF1 tumors, and Clapp was named principal investigator in the first Specialized Program of Research Excellence (SPORE) initiative focused on pediatric cancers. 
Rhodes centers his research on finding therapies to treat and prevent NF1-associated MPNST, a sarcoma (cancers that begin in the bones and connective tissues) with a survival rate of 20 percent to 50 percent; the Clapp lab is developing models based on his findings to stop precancerous tumors from progressing to malignancy, thanks to donor support. While targeted therapies have revolutionized cancer treatment, patients' tumors adapt and begin to resist; Angus is working with the Clapp lab on MPNST adaptation, a project with many donor partnership opportunities.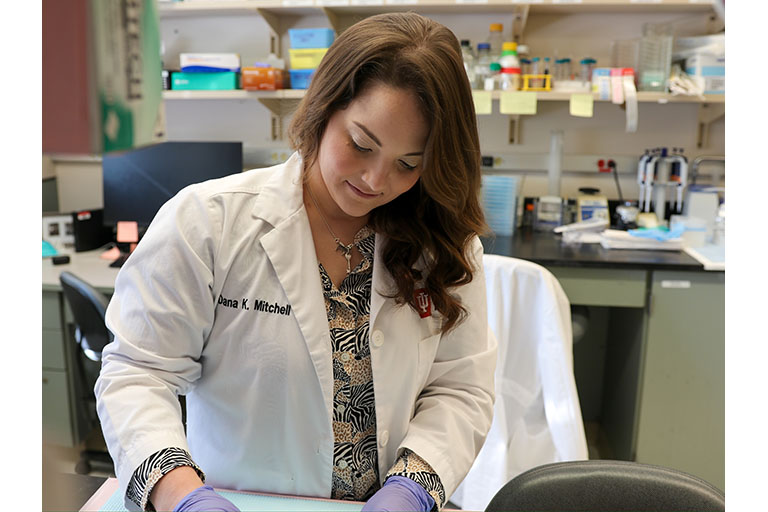 For her part, Mitchell — named an Outstanding Postdoc of the Year by the IU School of Medicine Graduate Division — has published and made presentations of her findings related to her work in the Clapp lab. 
Mitchell wants donors to know that IU Simon Comprehensive Cancer Center labs are "extremely good at using the money well. We're very focused on what we can do for the biggest impact on patients. Our driving motivation, the question we're always asking, is, 'But what are we doing for the patients?' Educating patients and connecting them with what we do so they have a deeper understanding of their disease is important to us. They're just as much a part of this team as any of us, if not more so."
About the Author
Cindy Dashnaw Jackson finds and tells nonprofit stories that inspire audiences to share, show up and support. She honed her ability to craft a message that fits an audience during 20 years in nonprofit PR and communications. Now a freelancer and founder of Cause Communications LLC, she's a copywriter and storyteller for nonprofits across the United States. And she earned her degree at IUPUI.
The Deutsch Scholarship
The Walter A. and Laura W. Deutsch Research Endowment supports Ph.D. and M.D./Ph.D. students and postdoctoral fellows pursuing degrees in biomedical sciences who have demonstrated potential for conducting oncology research. Successful applicants are students or fellows with a strong academic record, outstanding character and well-defined professional goals.