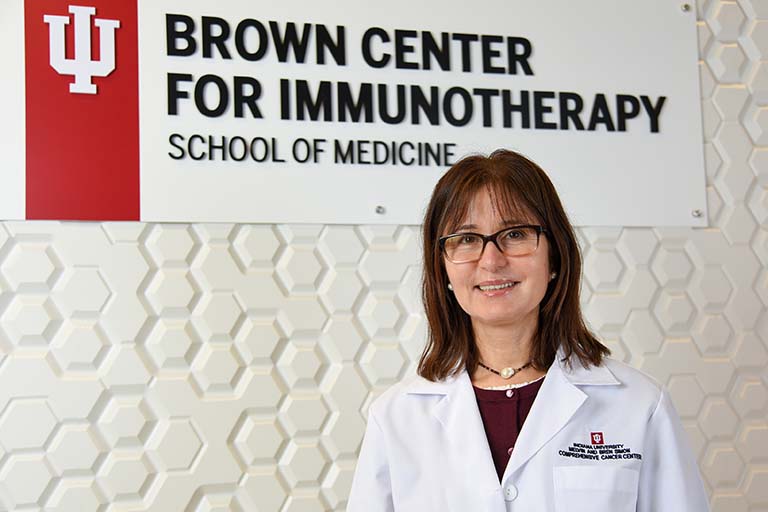 November 19, 2021
On  Nov. 1, Huda Salman, MD,  became the first executive director of the Brown Center for Immunotherapy. As a physician, she has been recognized as a Castle Connolly Regional Top Doctor, and she is among Castle Connolly's Exceptional Women in Medicine in addition to other notable awards. As a researcher, she leads several clinical trials focused on lymphomas.
A leukemia survivor herself, Dr. Salman says her experience absolutely influenced her career in cancer care and research. She was previously at Stony Brook University and the Stony Brook Cancer Center, where she founded the hematological malignancies section, the CAR T-cell program, as well as the Adolescence and Young Adult Program.
Dr. Salman answered questions about what brought her here, her research, and more.   
Q. What attracted you to IU and the Brown Center?
A. The abundance of potential and the enthusiastic team spirit that I sensed in everyone I met here at IU to build a state-of-the-art center that offers a nice array of novel immune-based therapies.
Q: What projects are you most looking forward to working on in the Brown Center?
A: I would like to start with the on-site manufacturing of CAR T-cell therapies for cancer. I plan to then study and create different combinations of those and other immune-based approaches or other therapies to harness the best possible benefit for the patients. Establishing the GMP facilities equipped with FDA-approved standards for clinical research is almost ready to go.
Q: Where do you see the Brown Center five years from now?
A: Up and running, fully staffed, providing state-of-the-art trials and therapies and expanding on new research and clinical trials. I also see the center with more secured funds to continue to expand.
Q: How do you see immunotherapy transforming the future of cancer treatment?
A: Cancer treatments have a lot of toxicities, lack specific targeting of cancer cells and tissues and are mostly short-lived responses. Utilizing the immune system's potential to fight cancer has been proven to overthrow these traditional limitations and provide the specificity and improved toxicity profile we need. Also being part of the vitality and life of a normal but augmented immune response, immunotherapy has the potential for much longer duration and longer-lasting efficacy. And this is exactly how immune therapy is transforming cancer treatment approaches.
Q. What do you find most exciting about your cancer research?
A: Discovery and application, moving the field forward, helping cancer patients and inspiring junior researchers to stay the course and be productive.
Q. What is the most rewarding part of being a physician?
A: To me, it is giving the best I know to those who need it and then watching it work! It helps my patients and satisfies my confidence in what I have spent years and years learning and optimizing.
Q: As you look back on your career, which cancer research advances most stand out to you?
A: Targeted therapy. Defining how cancer cells are different from normal cells allows researchers and clinicians to get them right there where they outsmart their normal counterparts through acquired advantages.
Q: What are the biggest questions in cancer research that keep you up at night?
A: How do cancer cells survive almost no matter what we throw at them? How do they outsmart us, the body and their environment? When and how do they acquire their advantages over the immune system and other defense mechanisms the body surveys all the time?
Q: What do you like to do in your spare time?
A: I love the outdoors, I love pets and I am an animal advocate. I run, walk my puppy Semsem, play my piano and try to go to wherever classical music is played.
What is the most important thing you'd like people at IU to know about you?
A: That I am sincere in what I do. I am proud of what I accomplish, and I own my shortcomings.