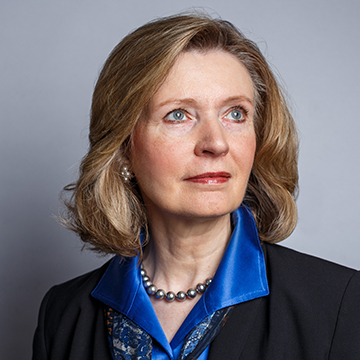 By Michael Schug
Wednesday, June 23, 2021
Lois B. Travis, MD, ScD, an internationally recognized expert on cancer survivorship, leads the cancer survivorship research program at the IU Simon Comprehensive Cancer Center.
In the program, researchers look at ways to predict who is susceptible to toxicities in cancer treatment and then alter treatment or develop preventive measures to protect the patient from long-term adverse side effects. This ground-breaking program has the potential to impact the nearly six million people worldwide who are eligible for treatment with a platinum-based agent.
For National Cancer Survivors Month, we asked Dr. Travis, the Lawrence H. Einhorn Professor of Cancer Research at IU School of Medicine and a researcher at the cancer center, about cancer survivorship and her ongoing work in that area. (We also caught up with Dr. Travis in 2018 on National Cancer Survivors Day. Check out that Q&A.)
Q: According to estimates from the National Cancer Institute, there were nearly 17 million American cancer survivors in January 2019. The number of cancer survivors is expected to increase to 22.2 million by 2030. Are you surprised by the growing number of survivors?
A. The growing number of cancer survivors is to be expected, given the advances we have made in earlier diagnosis (as the result of cancer screening), more effective therapy, and better supportive care. This news is quite welcome.
Q. Before we get too far along, who is considered a cancer survivor?
A: According to the NCI Office of Cancer Survivorship, an individual is considered a cancer survivor from the time of diagnosis, through the balance of the person's life.
Q: Research has increased the length of survival for many cancer patients. How does that motivate you or even change the way you approach your work?
A:  It is extraordinarily motivating. The increase in length of survival implies that we must now follow our patients for life, using evidence-based strategies. This is exactly the type of research that our team does. Cancer survivorship research, when correctly done, takes into account the many medical, psychosocial and societal implications of surviving a cancer diagnosis. For example, in our ongoing cohort study of men treated for germ cell tumors, the median age of our patients is currently only around 37 years of age. It is our intent to follow them for at least 30 years to continue to understand the late complications of cancer and its treatment.
Q: Last year, you received a five-year, $5.7 million grant from the National Cancer Institute to evaluate long-term health outcomes for cancer patients who receive platinum-based chemotherapies. What have been some of the early findings that you and your colleagues have discovered?
A:  This grant was just awarded in mid-July 2021 during the COVID-19 pandemic. We are now in the process of data collection and should be presenting our early findings at the 2022 meeting of the American Society of Clinical Oncology.
Q: Speaking of ASCO, the world's leading organization for oncology professionals, you and your colleagues just presented at this year's annual meeting, which was in early June. What can you tell us about the abstracts that were submitted?
A: Our team had five scientific abstracts presented at the virtual 2021 ASCO meeting. Each one looked at different aspects of cancer survivorship. In one abstract, we looked at factors associated with the use of medications for anxiety and depression in our patients. In a second presentation, we explored reasons for discrepancies between audiometrically-detected hearing loss and self-reported measures. Genetic factors associated with cisplatin-related hearing loss, tinnitus, and neuropathy were explained in a third presentation. The effect of pre-treatment central adiposity on the subsequent cardiometabolic risk of patients was analyzed in the fourth abstract. Last, the integration of a polygenic risk score of kidney function with cumulative cisplatin dose and other variables to predict serum platinum levels was also explained. It speaks very highly for the cohesiveness and productivity of our team that the lead role for the various presentations was taken by colleagues at the University of Chicago, Vanderbilt University, and Memorial Sloan-Kettering Cancer Center, as well as Indiana University. 
Q: You communicate regularly with an international cohort of survivors of germ cell tumors who volunteered to be part of the Platinum Study. Can you talk about the role survivors have in advancing scientific knowledge?
A: Cancer survivors are absolutely critical, and we greatly appreciate their responsiveness in the Platinum Study. This is a cohort study, and as mentioned, we intend to follow these survivors for life. In the first five years of the study, 93 percent of eligible patients were enrolled. It should be noted that this is an unprecedented participation rate. In this cohort investigation, we have enrolled patients from the following cancer centers in the U.S., Canada, and Great Britain: IU Simon Comprehensive Cancer Center, Memorial Sloan‐Kettering Cancer Center, Dana-Farber Cancer Institute, Princess Margaret Hospital (Canada), University of Pennsylvania, British Columbia Cancer Agency (Canada), the University of Rochester, and the Royal Marsden Hospital (Great Britain).
Also, to date, we have enrolled more than 1,800 testicular cancer survivors and published three papers in the high-impact journal, the Journal of Clinical Oncology (JCO), and we have published other papers thanks to the men who have graciously devoted their time. Their assistance is invaluable. We are indebted to them.