Kelvin P. Lee, MD
Phone: (317) 278-8418
Phone: (317) 944-0920, Patient issues/appointments

980 W. Walnut St.
Walther Hall R3 C150
Indianapolis, IN 46202

Faculty appointments
Associate Dean for Cancer Research

,

IU School of Medicine

Director, IU Simon Comprehensive Cancer Center

HH Gregg Professor of Oncology

,

IU School of Medicine

Professor of Medicine

,

IU School of Medicine

Professor of Microbiology & Immunology

,

IU School of Medicine

Full member

, Hematopoiesis & Hematologic Malignancies
I believe that research cures cancer. For this to be successful, we need to get our science into our patients.

Kelvin Lee, MD
Biography
Kelvin Lee, M.D., a world-recognized medical oncologist and multiple myeloma researcher, is director of the Indiana University Melvin and Bren Simon Comprehensive Cancer Center. He began Feb. 1, 2021.
He is also associate dean of cancer research, H.H. Gregg Professor of Oncology, and professor of medicine and microbiology and immunology at IU School of Medicine. In addition, he is a physician at IU Health.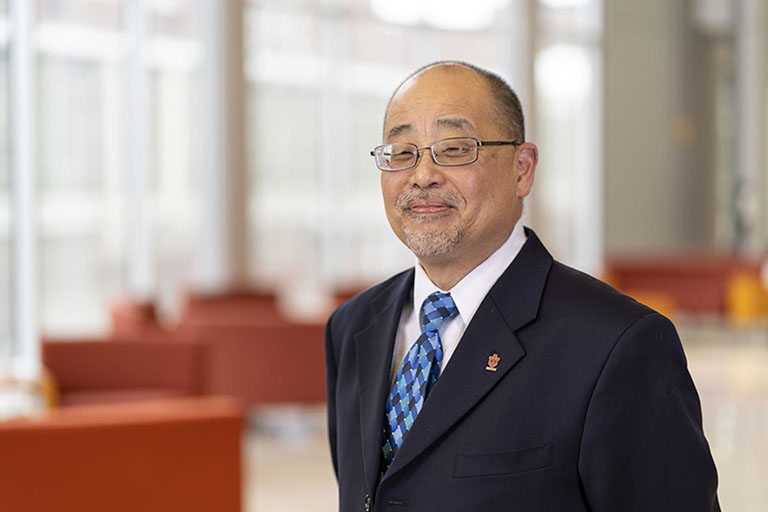 His multiple myeloma expertise is invaluable to the IU team, a multidisciplinary team of researchers and clinicians working to cure the blood cancer. Two other teams are concentrating on developing cures for triple negative breast cancer and childhood sarcoma. The teams are part of the IU Precision Health Initiative, the inaugural recipient of IU's Grand Challenges program.
That bold initiative and the university's willingness to use the word "cure" attracted Lee to IU.
In addition to his duties as director of the cancer center, he leads a research lab with a team focused on multiple myeloma, while in clinic he sees patients with the disease.
Previously, Lee was the Jacobs Family Chair of Immunology, a professor of medicine, vice chair of medicine, and senior vice president of basic sciences at Roswell Park Comprehensive Cancer Center in Buffalo, N.Y.
It was at Roswell Park where he led America's groundbreaking collaboration with cancer researchers in Cuba, who have developed a lung cancer vaccine that Roswell is testing in clinical trials.
An immunology expert, Lee is the principal investigator on multiple myeloma clinical trials, he holds two patents, and he has authored more than 100 papers in peer-reviewed journals.
He currently holds $1.5 million in research grants. During his career, he's earned grants from the National Institutes of Health, the National Cancer Institute, the Multiple Myeloma Research Foundation, the Leukemia and Lymphoma Society, and the Breast Cancer Resource Foundation among others.
Among his many notable honors, he is a National Merit Scholar, Presidential Scholar Finalist, and an American Cancer Society Fellow.
He holds memberships in the American Society of Clinical Oncology, American Association of Immunologists, American Society of Hematology, and the American Association of Cancer Researchers among others. He also serves on the New York State COVID-19 Clinical Advisory Task Force.
Lee earned a bachelor's degree in biomedical sciences and his medical degree with honors from the University of Michigan in Ann Arbor. He completed his medicine residency at the University of Colorado Medical Center in Denver, and his oncology fellowship at the University of Michigan. He also completed a research fellowship at the University of Michigan's Howard Hughes Medical Institute.
He and his wife, Louise, are the parents of Kristen, a freshman at Butler University, and Justin, a senior at Northeastern University.
He proudly roots for the Buffalo Sabres, Buffalo Bills, Indianapolis Colts (in non head-to-head games against the Bills) and the Indiana Pacers.