News Briefs | February 2021
Lu named co-program leader of EDT
Xiongbin Lu, Ph.D., has been named co-program leader of the Experimental and Developmental Therapeutics (EDT) research program.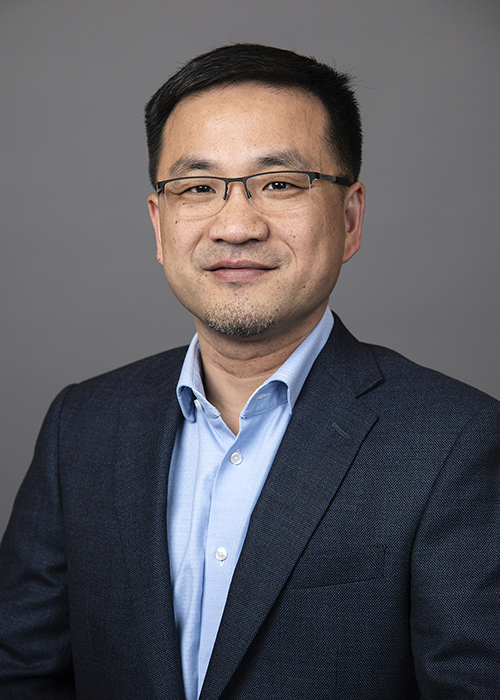 Lu
Lu's research interest spans across the field of cancer research, including human cancer genomics, targeted cancer therapy, and cancer immunotherapy with a focus on breast, ovarian, and colorectal cancers. He also has a long-standing interest in biomedical engineering, particularly nanoscale materials for cancer drug delivery.

He has made a number of seminal discoveries that promote translational development of human cancer research, including breast cancer targeted therapy and immunotherapy. His work has been published in many high-impact journals such as Nature, Nature Nanotechnology, and Cancer Cell.
Lu succeeds Chunhai "Charlie" Hao, M.D., Ph.D., and serves as co-leader with Mark Kelley, Ph.D. The program's mission is to promote, develop, and exploit mechanism-based research for improved therapy of human cancer with a "bedside-to-bench-to-bedside approach."
Cancer center signs letter to Biden administration urging priority access to COVID-19 vaccine for patients
The IU Simon Comprehensive Cancer Center joined with 130 scientific organizations and cancer centers to urge priority access to COVID-19 vaccines for cancer patients and survivors. The letter, initiated by the American Association for Cancer Research, urges the Biden administration and public health officials at the state level to prioritize patients and survivors in statewide vaccination plans. Read the letter>>
NCI celebrates 50 years of the National Cancer Act

The National Cancer Institute this year is commemorating the 50th anniversary of the National Cancer Act of 1971. The theme for this milestone is "Nothing will stop us." Follow along throughout the year on the NCI's National Cancer Act 50th anniversary website.
Follow the cancer center on social media
Keep up with cancer center news on our social media accounts. Make sure you're following us on Facebook and our new Twitter account. Cancer center members can submit news, photos, or lab updates for possible social media posts by emailing Candace Gwaltney, science writer, or by tagging @IUCancerCenter on Twitter.
Your vote matters for "Best Hospitals"
Whether you trained or are currently a physician at the IU Simon Comprehensive Cancer Center at IU Health, please support us in the U.S. News & World Report annual survey for "Best Hospitals." Nominate "Indiana University Health Medical Center" for cancer in the adult specialty rankings. You can nominate up to five hospitals in that category. If you're registered with Doximity, you may receive an email request from Doximity to make nominations. Other randomly selected physicians will be contacted by mail to make nominations. Your vote matters because it helps patients and families decide where to go for cancer care. We hope you'll vote and rank Indiana University Health Medical Center/cancer, adult specialty at the top of your list. Thank you.
100 Voices of Hope funds 2 new research projects
With the support of donors, 100 Voices of Hope has reached $2 million in total funds raised since 2008. This year's contributions totaled $216,701, and funded two new research projects:
 "Using Acoustic and Fluid Mechanics to Diagnose Breast Cancer Metastasis," Feng Guo, Ph.D., and Kenneth Nephew, Ph.D.
 "Searching for a HUNK Inhibitor," Elizabeth Yeh, Ph.D. 
For detailed descriptions of these projects, visit the program's hunch history.
Recent awards for pilot projects
 The IU Simon Comprehensive Cancer Center has awarded the following pilot projects:
Near Miss Awardees:
Brian Walker, "The Regulation and Role of APOBEC3B in Multiple Myeloma" 
Charlie Hao, Anita Bellail and Chafiq Hamdouchi, "Development of SUMO1 Small Molecule Dgraders as the First-in-Class Anticancer Drugs for Metastatic Colorectal Cancer"
Heather O'Hagan, "Inhibiting Lysine Demethylase 1 to Elucidate the Role of Secretory Cells in Mucinous Colorectal Cancer"
John Turchi, "Novel DNA Damage Response Therapeutics Targeting Replication Protein A"
Intersection of SARS CoV-2 and Cancer Awardees:
Utpal Dave, "Identify and Characterize Human Single Chain Fv Against Coronaviral Spike Proteins by Phage Display"
Nick Pettit, "National History of SARS-CoV-2 in Cancer Patients A National Study" 
Brian Dixon, "Leveraging Electronic Health Records to conduct COVID-19 Surveillance Among Cancer Patients"
Breast Cancer Drug Development Awardee:
Samy Meroueh and Xiongbin Lu, "Investigation of First-In-Class TEAD-Yap Antagonists in Breast Cancer" 
Catherine Peachy Foundation Awardee:
Amber Mosley, "Application of the Emerging Proteomics Technologies to Human Breast Cancer"
Cancer Biomarker/Use of Translational Research Core Awardee:
Daniel Runco, "Anthropometric and Biochemical Markers of Nutrition in Children with Cancer: A Pilot Investigation of GDF15"
Working Group Awardees:
Pancreatic Cancer – Challenges and Solutions Working Group
Cancer Drug Discovery & Development (CDDD) Working Group
ACS-IRG Awardees:
Clint Bahler, "PSMA-PET Guidance for Surgical Resection of Prostate Cancer"
Mike Veronesi, "Development of Neuroimaging Biomarkers Using Simultaneous FET PET and MR CEST for SUMOylation Inhibitor Therapy Against Glioblastoma"
Steve Angus, "PRC2 Impact on the Functional Kinome of Malignant Peripheral Nerve Sheath Tumors"
Cancer Prevention & Control Awardees:
Anna Maria Storniolo, Kathy Miller, and Jaeyeon Kim, "Targeting Progesterone Signaling for Breast Cancer pPevention"
Susan Storey, "Examining the Role of Hyperglycemia on the Symptom Clusters of Colorectal Cancer Survivors with Type 2 Diabetes"
Fellows receive Fisher Fund award to support lung cancer research
IU School of Medicine hematology-oncology fellows Melissa Yan, M.D., and Nikhil Shukla, M.D., each received a research award from the Hoosier Cancer Research Network's George and Sarah Jane Fisher Fund. Yan and Shukla are investigating biomarkers that may one day provide more personalized solutions in treating lung cancer. Nasser Hanna, M.D., serves as a mentor to both Yan and Shukla. Read more>>
Research nurse joins Hoosier Cancer Research Network board
Arnold
Alesha Arnold, R.N., clinical research nurse at the cancer center, was recently named to the board of directors for the Hoosier Cancer Research Network. Arnold joined IU School of Medicine in 2008 and supports the cancer center's Clinical Trials Office. Read more>>
Request: Mentors for virtual Summer Research Program and Future Scientist Program
Cancer center members are needed to serve as faculty mentors for the 2021 IU Simon Comprehensive Cancer Center Summer Research Program and Future Scientist Program, which run June 14-July 23, 2021.
By placing students with faculty mentors, students gain insight into a wide range of basic science, translational, and clinical research activities. Mentors facilitate and guide the students toward completing a virtual research project, encourage students to explore the field of biomedical science, and provide students access to professional networks. Mentors receive $1,000 toward the purchase of lab supplies for the student(s) and project(s). 
Please contact Hari Nakshatri (hnakshat@iupui.edu), Timothy Corson (tcorson@iu.edu), or Shannon Hawkins (shhawkin@iu.edu) for additional information.
Bright-Well Fund supports IU, IU Health cancer center employees in need of financial assistance
The Bright-Well Fund recently was established at the IU Simon Comprehensive Cancer Center to assist IU School of Medicine and IU Health employees experiencing unexpected personal financial distress. If you know of an employee who might benefit, please encourage them to apply for support. The review process for awards and the distribution of Bright-Well Fund support is entirely confidential and is reviewed and adjudicated by a social worker and HR staff. Learn more and apply for support.
Upcoming event
The Michigan-Indiana Region of the Leukemia and Lymphoma Society is hosting a free virtual program called Blood Cancer & COVID: Your Questions Answered at 2 p.m. Wednesday, March 24. Cancer center member Jose Azar, M.D., and Lana Dbeibo, M.D., of IU School of Medicine will share medical updates regarding blood cancers and COVID-19 and answer questions. The event is for patients, families, and healthcare professionals. For event details and registration, vist https://na.eventscloud.com/covidcancer.
Cancer center members in the news