News Briefs | October 2020
External Advisory Board meeting
The cancer center hosted its first-ever virtual External Advisory Board meeting on Oct. 23. During the meeting, Patrick Loehrer, M.D., cancer center director, delivered an overview and update on the center. Next, co-leaders of the center's four research programs provided updates of their respective programs to the board. Other presentations included updates on Community Outreach and Engagement and the center's training and educational opportunities, data science and informatics, as well as the center's shared facilities. The meeting provided the External Advisory Board an opportunity to critique the center as center leadership continues to prepare for renewal of its Cancer Center Support Grant. That grant is due in September 2023 and will be followed by an NCI site visit in February or March of 2024.
Miles for Myeloma celebrates success with 2020 virtual event
With a shift to a virtual format, this year's Miles for Myeloma Celebration was hosted via livestream by Dr. Rafat Abonour on Oct. 17, featuring the myeloma research team with special guest Kelvin Lee, M.D., incoming cancer center director. The event recording and M4M MEDTalk videos are available online.
More than $264,000 has been raised by M4M efforts so far this year for research and patient care, thanks to more than 800 donors. Additionally, 82,610 miles (cycling, running, walking and more) have been logged in honor of myeloma warriors in 2020. Efforts to reach The Myeloma Million—a challenge to combine dollars, donors and miles to reach one million—will continue through the end of the year. To learn more, make a gift or log miles visit cancer.iu.edu/m4m/million/.
A big thanks goes to the committee of volunteers who helped coordinate the event. To join the committee for 2021, email Ashleigh Wahl.
Dr. Loehrer earns Sagamore of the Wabash, IU President's Medal for Excellence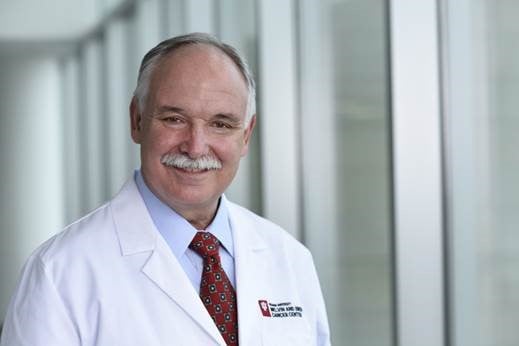 Patrick Loehrer, M.D., director of the IU Simon Comprehensive Cancer Center, recently earned two prestigious awards at a small gathering of family, friends, and colleagues. First, he received the Sagamore of the Wabash, the highest honor that Indiana's governor can bestow upon a civilian. A representative from the governor's office said: "Not only is he an unparalleled physician himself, he also dedicated his life to making sure that he built a legacy of unsurpassed quality and the physicians to come behind him and the science to deliver also unsurpassed results. The trainees, patients, the science of oncology, the global stage of medicine, and the state of Indiana are all better for the selfless, kind, and determined spirit of this giant living right here among us mere mortals."
Dr. Loehrer also received the President's Medal for Excellence, the highest honor an IU president can bestow, in recognition of his exceptional service to Indiana University.
Dr. Loehrer has led the cancer center since 2009. He's stepping down in January but will continue to wear his white coat and see patients with gastrointestinal and thymic malignancies and carry on his work focused on global oncology and health equities.
National Academy of Medicine elects Dr. Wade Clapp to its membership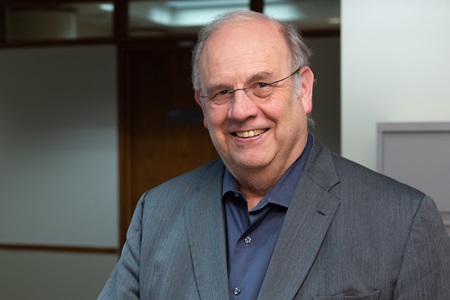 Wade Clapp, M.D., chair of the Department of Pediatrics at IU School of Medicine, has been elected to the National Academy of Medicine (NAM). According to the academy, Dr. Clapp was elected as a member for work that has led to fundamental new insights into the pathogenesis of neurofibromatosis and improved lives for children and adults with this disorder.
The group announced the election of 100 new members during its annual meeting on Oct. 19. Election to the academy is considered one of the highest honors in the fields of health and medicine and recognizes individuals who have demonstrated outstanding professional achievement and commitment to service. Read more >>
Photo album captures a splash of fall
Fall has arrived and a burst of color has painted IUPUI in autumn hues. Check out this photo album.
Cancer center members in the news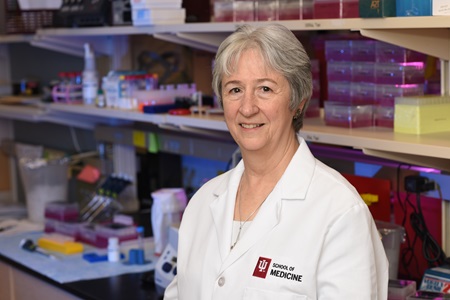 Bonewald
Lynda F. Bonewald, Ph.D., and G. David Roodman, M.D., each have been named a 2020 Distinguished Professor, the most prestigious academic appointment at IU. They presented this month at the IU Distinguished Professors Symposium. Dr. Bonewald was profiled this month in this IU School of Medicine blog post. Revisit a story about Dr. Roodman's accomplishment in this June 2020 profile.
Matthew Bochman, Ph.D., is a lead author on a study that describes a biochemical mechanism that boosts enzyme commonly observed in cancer. More>>
Greg Durm, M.D., is co-investigator of a Hoosier Cancer Research Network study that affirms the effectiveness of consolidation immunotherapy after chemoradiation in adults with unresectable stage IIIA or IIIB non-small cell lung cancer. The findings were recently published in the Clinical Lung Cancer journal and the American Cancer Society's Cancer journal. More>>
Heiko Konig, M.D., is a principal investigator for a phase Ib trial multicenter study to learn whether the combination of cancer drugs Gemtuzumab and Venetoclax can kill leukemia stem cells, thus eradicating leukemia in patients suffering from relapsed/refractory acute myeloid leukemia. The study is sponsored by the Big Ten Cancer Research Consortium.
Pankita Pandya, Ph.D., M. Reza Saadatzadeh, Ph.D., Todd E. Bertrand, M.D., Sandeep Batra, M.D., Jamie Renbarger, M.D., Karen Pollok, Ph.D., and colleagues wrote "Systems Biology Approach Identifies Prognostic Signatures of Poor Overall Survival and Guides the Prioritization of Novel BET-CHK1 Combination Therapy for Osteosarcoma," published in the journal Cancers.