5 Questions with Dr. Anita Turk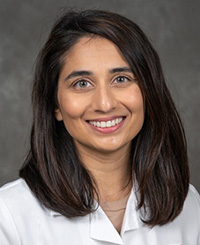 Anita Turk, M.D., is an assistant professor of clinical medicine at IU School of Medicine and an associate member of the Experimental and Developmental Therapeutics research program at the IU Simon Comprehensive Cancer Center. Her research focuses on targeted and immune-based therapies for patients with cholangiocarcinoma (bile duct cancer) and hepatocellular cancers (liver cancer).
Q: Tell us about your research.
Dr. Turk: My research interest is focused on developing targeted therapies for gastrointestinal cancers, with a specific focus on tumors that start in the liver. I am working with our Precision Genomics team to find changes in cancer DNA that would allow us to use targeted therapies which act against these mutations differently compared to chemotherapy. Additionally I am working on treating these cancers by enhancing the immune system to fight the cancer. We are learning more about how healthy bacteria in our colon activate our immune system. Because of this research, we are now studying combining probiotics with immune therapies for patients with gastrointestinal cancers. 
Q: Why did you become interested in this area of oncology and research?
Dr. Turk: Overall, patients with liver tumors (both bile duct cancer and liver cancer) have very limited treatment options that largely hasn't advanced over the last decade. During my training, I felt a deep connection with these patients and wanted to help move the science forward. This motivated me to join the field and advocate for patients with less common tumor types.
Q: COVID-19 is affecting every part of daily life, but cancer doesn't stop. How is the pandemic changing your day-to-day work and research efforts?
Dr. Turk: Despite the devastation this virus is causing, it has made me rethink how I do research with our patients in the clinic. Fortunately, at IUSCCC we have been able to continue our research efforts by allowing our studies to use virtual visits over the internet to allow our patients to stay home as much as possible. The pandemic certainly has made other aspects of cancer care more difficult. For the safety of our patients we have had to limit visitors in our hospital and clinics and start stringent screening measures. It is very difficult to talk about advanced cancer with patients without family by their side. We hope as the pandemic curve flattens these measures can be relaxed when it is safe to do so.
Q: What is the most rewarding part of your research?
Dr. Turk: The most rewarding part of my research is bringing the science to my patients. Being able to offer novel and different treatments to my patients while being able to learn about the disease is a privilege and an honor. It is especially satisfying when a new treatment on a clinical trial help my patients feel better and live longer. 
Q:  Outside of research, how do you like to spend your time?
Dr. Turk: If I'm not at work I enjoy spending time with family and friends. When I can take time off, I love to explore the world with my husband. I've had the opportunity to travel to Zimbabwe, Namibia, Botswana, Sri Lanka, Pakistan, Germany, France, England, Italy, and Maldives. I hope to see the rest of the world!